Before and After: A Dingy Bathroom Gets a Redo Worthy of Its 1800s London Home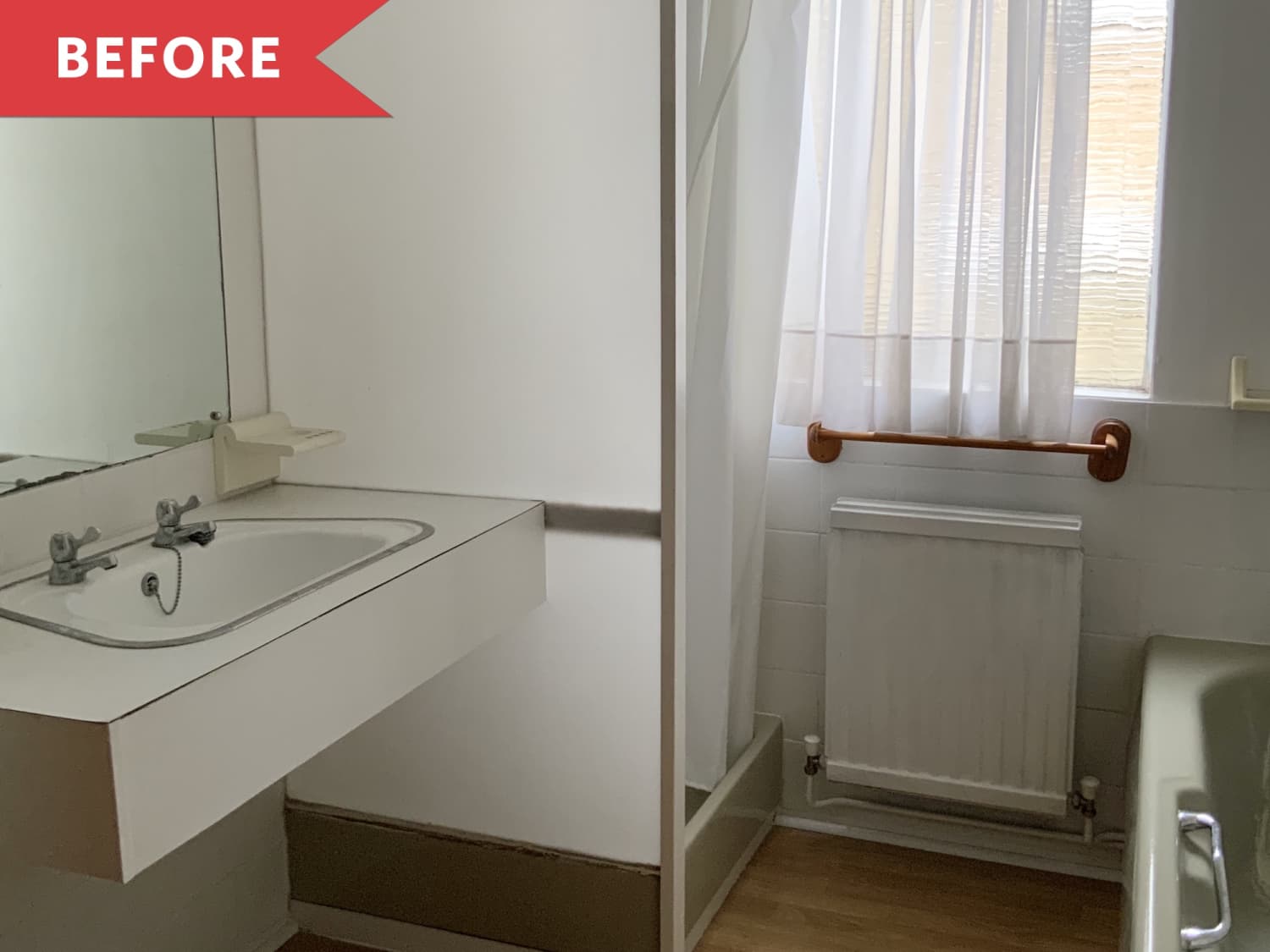 When it comes to a home reno, you've got options: You can make minor tweaks, you can remodel one or two rooms, or you can redo the whole freakin' thing.
Sophie Kreyer-Peake (@london.reno.life) and her fiancé, Joe, went for that last option, deciding to go all in on a 19th-century Victorian house in London last year. "There was no hot water, and the house had not been touched in almost 50 years," says Sophie. In fact, the upstairs bathroom with the "avocado-colored" tub had no running water at all.
The couple decided to tackle that bathroom first because they planned to live in the house throughout the entire reno and therefore needed a functioning bathroom. For the project, they worked with a builder (actually, two—Sophie says the first one plumbed the toilet incorrectly and then walked out on the project, and they had to quickly find a replacement. Yikes!). It took about six weeks and £7,000 to turn the bathroom from unusable to an "OMG, when can we come over?" oasis.
The work involved some major restructuring. The couple decided to knock through a wall to combine a small bathroom with this one and make one big bathroom. They also removed a second staircase that they discovered had been boxed up under the floorboards in this bathroom from years ago. (Sophie guesses the house must have been divided into two flats.)
They also replaced that avocado-colored bathtub with a bronze-fauceted, standalone tub that gives off major spa vibes. And thanks to the added space, they were able to swap the dorm-style shower for one with floor-to-ceiling, forest green subway tiles and a Crittall-style shower screen.
The whole room now feels rich and luxurious, but the couple made some smart choices to save along the way. Because they wanted a lot of toiletry storage but couldn't find a big enough vanity unit in their budget, "we resorted to restoring an old pine chest of drawers and sitting the sinks on top," Sophie explains. The dark unit with the bronze detailing feels chic and totally bespoke. Sophie also wanted a black metal window, but that didn't fit into her price point either, "so we bought a plastic white window and spray-painted it matte black, which has worked really well!" she says.
Sophie and Joe handled the painting themselves, choosing limewash paint for a plastered look and earthy, calming effect. That was the goal with lighting and accessories, too: "All of our lights are on dimmer, which I think is really important for a bathroom—sometimes you need it bright for applying makeup, etc., and if you're having a bath, you may want it more moody," Sophie says. She also opted for full-length linen curtains "to really ground the room and create a bit of luxe."
Sophie has two big pieces of advice for anyone else doing a major reno: "Plan everything meticulously, especially if you are not using an architect," she says. "Also, living through a renovation might be horribly stressful, but it means you can keep a close eye on progress!"
Inspired? Submit your own project here.
Published at Mon, 10 Aug 2020 22:00:07 +0000
6 Up-and-Coming Bedroom Trends Real Estate Agents Love Seeing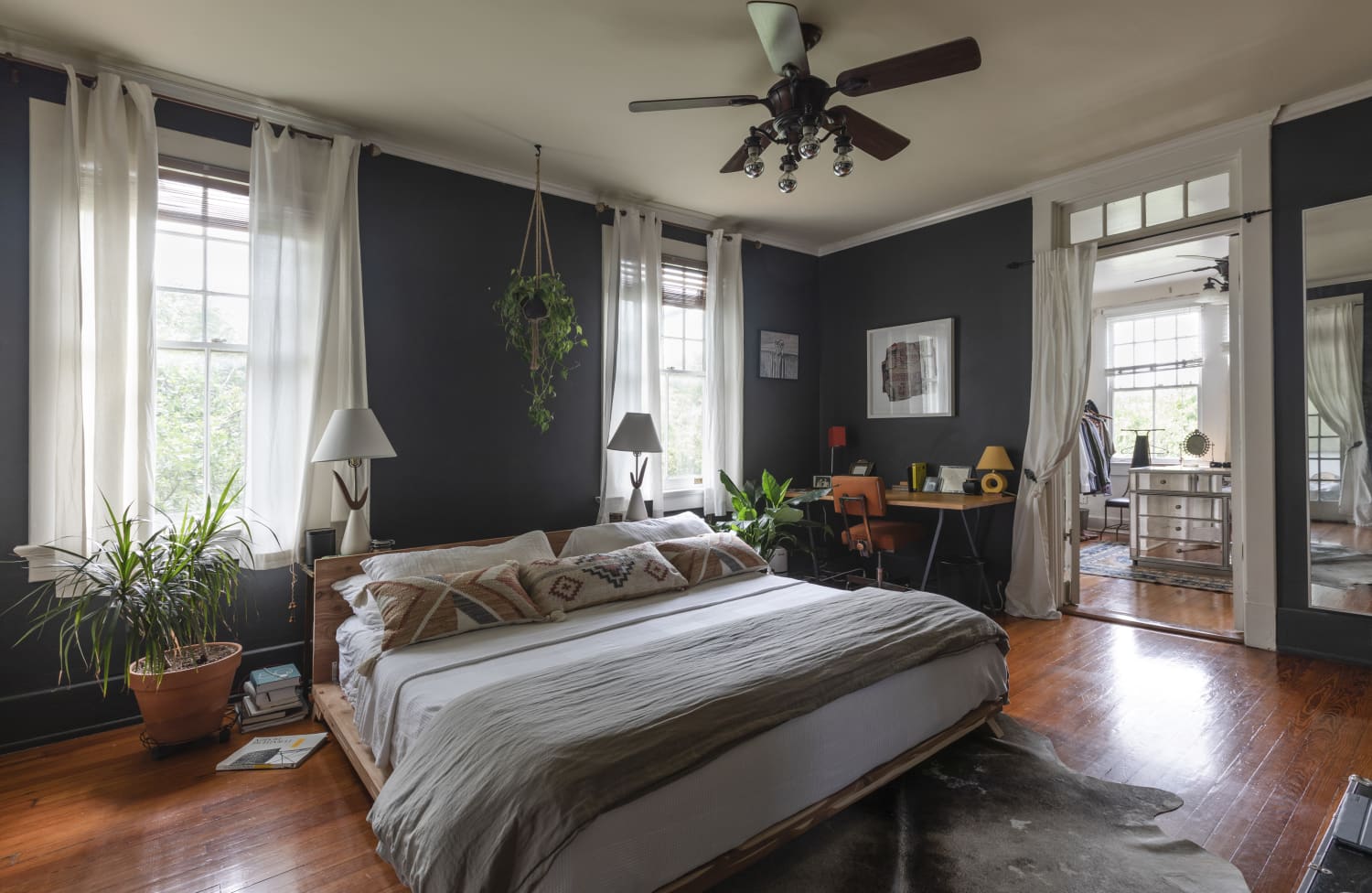 Trends have redefined what bedrooms have looked like over the decades. You know this, of course, if you've ever slept on a waterbed, used a sponge to paint your walls, or carefully matched the ruffled skirt of your bed to your window valances.
But what bedroom trends are on the horizon, especially now that months of quarantine has made living spaces more multifunctional? What trends have lasting power and won't flop as hard as, say, you did into that beanbag chair a la your college dorm days?
We asked realtors what features they're excited to see in today's bedrooms. Here are six bedroom trends they predict are here to stay.
Bedrooms doubling as office spaces
Bedrooms are clocking in for overtime now that working from home is the new norm. "I'm seeing a lot of makeshift home offices in the bedroom with a built-in desk in the corner of the room," says New York City broker Rebecca Blacker with Warburg Realty. "I'm excited about it because there's typically a lot of unused space in a bedroom."
With more people working from home during the pandemic—and likely to continue to going forward—the bedroom can serve as a nice and quiet place to work, Blacker says. "Buyers like to envision how they are going to live in a home, so when you have a work-from-home spot already built in, they can much easily picture themselves living there and working from home."
Bedrooms doubling as wellness spaces
Don't love the idea of working in the same space as you relax and sleep? That's totally fair. You might be warmer to the multi-use trend of bedrooms serving as wellness spaces. "One of the most interesting bedroom trends that I am seeing is a space designated for meditation or fitness," says Yawar Charlie, a Los Angeles realtor, regular on CNBC's "Listing Impossible" and director of the estates division at Aaron Kirman Group.
With COVID causing all types of closures—the gym, yoga studios, offices—people are getting creative with their spaces, he says. For some, that may be a meditation or relaxation corner with a yoga mat and plants. Others are carving out a fitness space in their rooms with free weights, resistance bands and balance balls. "It's almost like people need that section of their bedroom in order to relax, and let go of the stress of not only being limited in where they can go, but also having to work from home all day long," Charlie says. "It's a small sanctuary area that can be done on a DIY basis."
The trend extends into kids' rooms, too, says New York City realtor Joanne Greene with Brown Harris Stevens. "Kids' rooms are being repositioned to include lounge areas, workout space, homework stations, and even hammocks to relax in," Greene says. "We're also hearing of people putting murals on walls to make it feel as though you're outside, including lots of plants, and even adding fish tanks to bring the space to life."
The next generation of bedrooms look to be borrowing a design page from hotels. The show homes for new construction developments often showcase integrated headboards with lighting, says Justin Syens, a realtor in Surrey, British Columbia. "These padded and fabric finished headboards are attached to the wall, often with small task lighting or ambient lights, and are usually connected to the smart home system," Syens says. He's also taking note of bedside pendant lights, which free up space on bedside tables.
Live, not artificial, plants in the bedroom
Bringing the outdoors in has become a universal quarantine trend that New York City broker Gerard Splendore of Warburg Realty has taken note of in homes, particularly bedrooms. Adding live, air-purifying plants to the bedroom makes sense as people are spending more time at home and want their bedrooms to feel like a peaceful, clean oasis. "I am seeing this everywhere," Splendore says. "Plants are great for their ability to clean interior air and they respond to nurturing. I predict this trend will last."
Using mixed textures—like wood, fabric, metals, and glass—with a neutral color palette is a trend that Minneapolis realtor Jeanie Kang with Edina Realty has been spotting. It can make a bedroom feel more authentic to the homeowner, rather than an unmemorable "room in a box" with matching furniture pieces that look like a set, she says. The trend has staying power because it's flexible, Kang says, and lets a homeowner switch things up between seasons, and easily transitions if they move to a home with a different architectural style.
Up until recently, balconies felt like a bonus amenity. Now, after spending months in quarantine, apartment renters and homeowners alike are prioritizing bedroom balconies. "It expands the usable living area and provides an intimate setting for al fresco dining, a morning coffee or just relaxing after a long day," says Ericka Rios, co-founder and director of leasing at Downtown Apartment Company, a full-service brokerage in Chicago. Plus, a balcony or terrace provides lots of natural light, she says. Chris Gold, a realtor and CEO and Owner of Chris Buys Homes in St. Louis, says he's starting to see private balconies pop up in newer homes. He explains the luxury might not just be reserved for the main bedroom in the future. "This extra space is very appealing to buyers and can add value to a home," he says.
Want to give your own bedroom a makeover? Here are seven things professionals say adult bedrooms have in common.
Published at Mon, 10 Aug 2020 19:00:06 +0000